Our Chutneys, Jam and Spices are prepared by women using traditional recipes that in turn provide markets for rural dwellers for their crops. Many of the fruits grow organically around the islands and farmers are trained in good practices of management, harvesting and post-harvest handling.

Use traditional recipes with a Fiji twist capturing the taste sensation uniquely Fiji.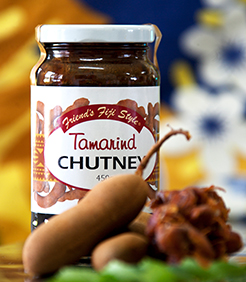 Tamarind Chutney
A tangy and tempting favorite. This tasty chutney is one of our most popular products. It can be enjoyed with savory snacks, as a dip or as a flavorful accompaniment to any vegetarian Indian dish or as a great marinade or sauce for any meat dish.
Friend's Fiji Style ® Tamarind Chutney was one of the first products launched by FRIEND. The Tamarind Chutney production was initiated as an income generation project for the Ba Senior Citizens Center under the stewardship of Late Sister Satya Bali. Tamarind Chutney and Indo-Fijian functions usually go together. If one attends a prayer, a wedding or a party at an Indian home, one can almost always expect especially prepared Tamarind Chutney to be part of the menu. Usually cooked a day or two before the official functions take place, the cooking of a Fiji style tamarind chutney involves a number of hands involved in preparatory work before it is constituted by experienced cooks.
Sweet Mango Chutney
A sweet & spicy treat flavored with cardamoms and cloves. Grated Mango with a fresh pulpy taste. Ideal for your sandwiches, wraps and tapas.
Friend's Fiji Style® Sweet Mango Chutney was evolved from a recipe of a Vuda woman, Kamla Wati. Kamla started making sweet mango chutney with FRIEND and won herself a Fiji Development Bank award for Small Business New Initiative in 2006. Kamla is well known for her skills at making assorted traditional Indian dishes.
"I always have been making chutneys, pickles and poppadum's using recipes I learnt from my mother, grandmother and mother-in-law. Growing up there was always homemade pickles and chutneys in my home. So when I got married I carried on with what I had observed growing up. I also sell these products to support my family income," says Kamla. Now in her 70s, Kamla has now retired having trained other women to continue bringing this delicious product to the market.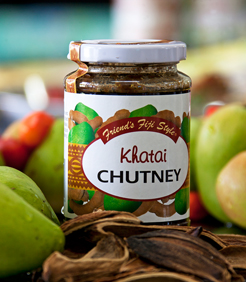 Khatai Chutney
Sun-dried mangoes cooked in spicy Tamarind Sauce. A sour and spicy condiment for your meals.
"Khatai" is a Hindi word for an ingredient that has been over dried. Families take advantage of bountiful mango seasons to prepare 'mango khatai' that is considered a delicacy when added to an array of dishes to bring out its flavours. Friend's Fiji Style® Khatai Chutney is made from sun dried green mangoes cooked in a hot tamarind sauce, combining the best of the taste of mangoes and tamarind. A little Khatai Chutney goes a long way with its high and intense flavours.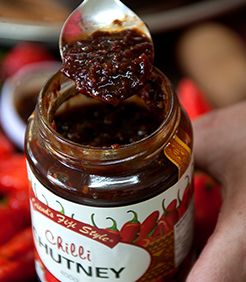 Chilli Chutney
A hot and spicy treat. This much-loved chutney has a taste that is both hot and sweet. It can be enjoyed with savory snacks, as a dip or accompaniment and it makes an excellent marinade for meats and grilled vegetables. It can be used as a tasty alternative to chilli sauce.
Friend's Fiji Style® Chilli Chutney is made from Fiji Bongo chillies. Fiji Bongo chillies are as hot as chillies get. Farmed for commercial purposes by farmers around Fiji, fresh chillies are blended and cooked with tamarind and raw Fiji sugar for an unparalleled authentic treat. Developed from a much loved family recipe, the Chilli Chutney production was initiated as an Income Generation Project for FRIEND and launched as one of the first products in the market alongside Tamarind Chutney in 2003.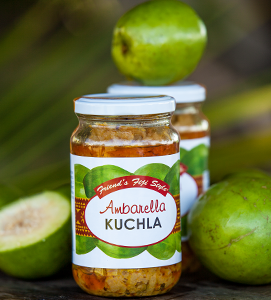 Ambarella Kuchla
Tender grated flesh of 'Wi apple' mixed with freshly roasted Indian pickle spices. Has a mild, tangy flavor to wake up your taste buds.
Ambarella is a tropical fruit containing a fibrous pit, known and used for its cooling and refreshing nature. High in Vitamin C the fruit is enjoyed by young and old alike. The fruit may be eaten raw; the crunchy flesh is a sour, and develops into a juicy fruit with a tangy sweetness as it ripens. Friend's Fiji Style® Ambarella Kuchla is made from succulent mature fruits, grated and mixed with freshly roasted spices and mustard oil.
Are made with fresh fruit pulp No artificial additives or preservatives.
Marmalade
A tropical tasting classic. The finest Fiji lemons give this marmalade a delicious tropical taste. Spread it onto freshly buttered toast for a delicious zingy taste. A versatile `ingredient for sweet and sour recipes.
A breakfast without marmalade on your toast is considered a sin by some.Friend's Fiji Style ®Marmalade is an ideal choice of the citrus preserve made from local fruits supplied by farmers around Viti Levu. This sweet preserve is made from the juice and peel of fresh citrus fruits and cooked with raw Fiji sugar for a delicious preserve to wake up your tastebuds with its classic bitter tang of authentic marmalades.
Mango Jam
Pure fruit jam made from fresh mangoes. A perfect choice for mango lovers.
A 'mangolicious' jam made with real fruit pieces.Friend's Fiji Style ®Mango jam is sweet and delicious. It can be eaten with bread at breakfast, as a snack, or as a dessert.Fresh mangoes cooked to perfection with raw Fiji Sugar for a luscious spread that sweetens the hearts.Adds a bright, tropical sweetness to a variety of dishes and desserts.
Pineapple Jam
This delicious jam is perfect for spreading on toast and can also be used as the foundation for sweet-and-sour sauce or a glaze for roasted meats.
A wide variety of pineapples is commercially farmed in Fiji for the local market. Friend's Fiji Style ®Pineapple Jam is made from fresh fruit pulp and raw Fiji sugar for a tropical tasting delight.
Guava
Guava Jam just like they make it at home. Guava is a favorite fruit in Fiji and from this we have made a delicious Fijian home style jam.
Guavas in Fiji grow in the wild. This organic fruit is a delight for man and birds alike. Friend's Fiji Style ®Guava Jam is made from ripened fruits collected from rural communities around Viti Levu and cooked into a sweet treat. A smooth spread for your bread, biscuits and tarts. Can be used as a flavouring for milkshakes.
Pawpaw Jam
Friend's Fiji Style ® Pawpaw Jam is made from 100% local ingredients in a clean and hygienic environment. A delicious pure fruit spread.
Honey
Fiji is blessed with a profusion of flowers and herbs and from these our local bees make delicious Friend's Fiji Style® Pure Honey. Bees are essential for our ecosystem and pollination of farms and forests. FRIEND has established more than 100 Bee farms around the Island to support men and women with a sustainable source of income. ( the Sweet livelihood video)
The primary nectar source of raw Fiji honey is coconut and mango flowers along with other rainforest flora. Fiji Honey contains a number of aromatic substances and is also high in vitamins B1, B2, C, B6, B5 and B3 and panothenic acid. It also has minerals like zinc and magnesium. Fiji Honey also contains enzymes and amino acids, making it a powerful antibacterial ingredient Rich in antioxidants, Fiji honey also help regenerate damaged tissue, deflect free radicals and improve skin tone and elasticity.

Lovingly prepared from recipes used over generations using freshest of the fruits.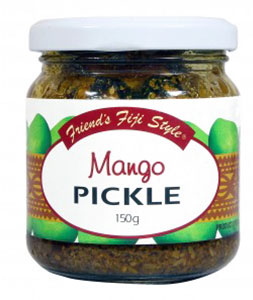 Mango
A mild tasting spicy pickle and an all-time favorite for pickle lovers. Made with fresh green fruits and mixed with an assortment of roasted spices.
Friend's Fiji Style ®Mango Pickle is made from generations old Fiji recipe that is distinct from other mango pickles around the world. "Fiji Aam" ("aam" is Hindi for mango and the name "Fiji Aam" is used for a particular variety of mango commonly used for pickling) is sourced from rural areas as the mango season peaks once a year around the country.
Fresh mangoes are salted, sunned and carefully blended with a selection of freshly roasted spices for a preserve that lasts for years. Pickle connoisseurs vouch that good pickles taste better as they age.
Chilli Pickle
A fiery pickle that's not for the faint hearted!Chilli Pickle can be enjoyed as an accompaniment to any kind of dish. It also makes an excellent marinade for chicken, lamb or beef.
A top choice for those who like it hot and spicy. Freshly sourced Bongo chillies are sourced from farmers around Viti Levu and blended with a traditional mix of pickling spice to give a flavour some pickle with a punch.Food always tastes better with a little chilli and Friend's Fiji Style ®Chilli Pickle turns a simple meal into a gourmet plate. A word of caution –it is addictive and gets hotter the longer you keep it.
Lime Pickle
Local lime is used to make this spicy, fresh tasting pickle. It goes very well with both vegetarian and meat dishes.
Friend's Fiji Style ® Lime Pickle is a juicy combination of limes with authentic spices to tease and tantalise your taste buds with each bite. The tangy, bitter, hot combinations of tastes declare a war on senses to add a twist on your meals. Perfect for topping on sandwiches and pizzas.

Fiji Cha attests to best quality fruits, flowers and herbs selected and sundried for perfect taste and aroma.
Lemon Grass
Lemongrass is a tropical variety of grass with a sweet, lemony scent. It is particularly associated with Thai and South East Asian cooking and suitable for use with poultry, fish, beef, and seafood.
Friend's Fiji Style® Lemon Grass composes of organically grown lemon grassfarmed around Fiji. Our sundried stalks can be used to prepare soups, broths, curries and sauces.
Boil or steep in hot water and use the infusion to add flavor to your dishes. You can also add it directly to your pot.
Star Apple
Fiji Cha Star Apple Tea is made from an exotic fruit which is high in vitamin A and Vitamin C. It is also a rich source of iron. Fiji Cha Star Apple Tea is made from a true wonder fruit which offers medicinal remedies.
Rosella
Fiji Cha Rosella Tea is made from the petals of Hibiscus Sabriffa flower. Rosella is easily farmed in cane belt areas of Fiji. It has a tart tangy flavor.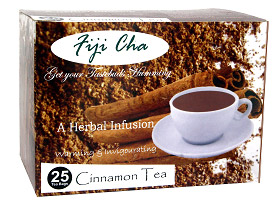 Cinnamon
Fiji Cha Cinnamon Tea has all the goodness of the long popular spice. It is grown organically in the forests of Vanua Levu.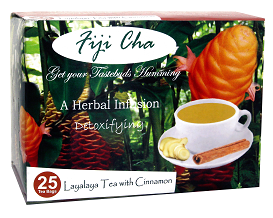 Cinnamon & Layalaya
Fiji Cha Layalaya Tea with Cinnamon is made from "ginger-like root" also known as Cogolaya or Drove organically grown in our lush tropical forests. The roots have been used to treat common ailments like cold, indigestion, stomache ache, bladder trouble, diabetes and blood pressure complaints for generations. Local Cinnamon adds to taste and aroma.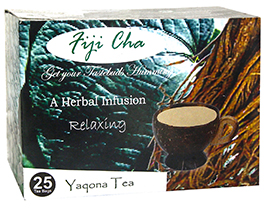 Yaqona Tea
Fiji Cha Yaqona Tea is made from aromatic roots of the Kava Plant. Yaqona is considered a traditional drink that signifies the true spirit of Fiji. Yaqona calms and induces relaxation.

A collection of flavors cultivated and harvested from tropical and organic locations around Fiji.
Ginger Powder
Fiji is known for growing good quality ginger worldwide. Friend's Fiji Style® Ginger Powder is a rich spice to add life to your dishes.
Ginger is a herb that is used as a spice and also for its therapeutic qualities. The underground stem can be used fresh, powdered, dried, or as an oil or juice.
Ginger is widely used throughout the world for treating loss of appetite, nausea and vomiting after surgery, nausea resulting from cancertreatment, flatulence, stomach upset, colic, morning sickness and motion sickness.Some people find ginger helps them with the symptoms of upper respiratory tract infection, bronchitis, cough, menstrual cramps, arthritis and muscle pain.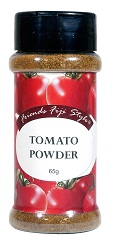 Tomato
Locally grown ripe tomatoes are sundried for the natural flavor option without any added preservatives or coloring.
Friend's Fiji Style® Tomato Powder has a flavor so rich and tomato-ey you won't believe it, until you taste it. Once you try this tomato powder, you will be surprised at how many other uses you will find. If you make your own pasta, tomato powder adds a lovely flavor as well as color. This is very useful in the off-season, when fresh tomatoes aren't very flavorful. Sprinkle it on curries,pasta and salads for flavor enhancement. The powder also can be used to thicken gravies, sauces and stews.
Curry Leaves
Curry Leaves is a free growing herb in gardens, backyards and forests. Mature leaves are selected for Friend's Fiji Style® Curry Leaves and sundried for a perfect touch to your curry dishes and savories.
Nothing can beat the fresh flavor of Friend's Fiji Style® Curry Leaves. Curry leaves are natural flavouring agents with a number of important health benefits, which makes your food both healthy and tasty along with pleasing aroma.
They contain various antioxidant properties and have the ability to control diarrhea, gastrointestinal problems such as indigestion, excessive acid secretion, peptic ulcers, dysentery, diabetes and an unhealthy cholesterol balance. They are also believed to have cancer fighting properties and are known to help protect the liver.
Chilli Flakes
Friend's Fiji Style® Chilli Flakes is a blend of local chillies farmed and collected from local farmers in the peak season for drying. Suited for sprinkling on any dish that requires the heat.
Chillies are known to boost metabolism, help burn fat and keep us feeling full longer. It contains up to seven times the vitamin C level of an orange and has a range of health benefits, including fighting sinus congestion, aiding digestion and helping to relieve migraines and muscle, joint and nerve pain. It's also a good source of vitamins A and E, beta-carotene, folic acid and potassium. Chilli has long been used to reduce food micro-contamination and is also considered a potential metabolism booster for weight loss. Several studies have found it may also play a role in treating lung and prostate cancer and leukaemia.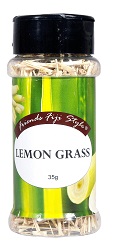 Lemon Grass
Lemongrass is a tropical variety of grass with a sweet, lemony scent. It is particularly associated with Thai and South East Asian cooking. Suitable for use with poultry, fish, beef, and seafood.
Friend's Fiji Style® Lemon Grass is sourced from organic lemongrass farmers around Fiji. Our sundried stalks can be used to prepare soups, broths, curries and sauces. Boil or steep in hot water and use the infusion to add flavor to your dishes. You can also add it directly to your pot.
Tumeric Powder
Made by dry grinding of mature turmeric rhizomes collected from the hills of Vanua Levu. Can be used for coloring and flavoring food, for cosmetic purposes and for medicinal properties. It is rich in dietary fiber, iron, potassium, magnesium and vitamin B6.
Friend's Fiji Style® Turmeric Powder is made from naturally growing rhizomes harvested from our tropical forests around Fiji. The use of turmeric for coloring and flavoring food, for cosmetic purposes and for medicinal properties dates back to the ancient Vedic culture of India. The wide range of turmeric health benefits come mainly from its main ingredient, curcumin. This widely researched component of turmeric is highly therapeutic and is used in various drugs and pharmaceutics mainly because of its immunity boosting and anti-oxidant properties. Used in almost all Indian curries, this spice has almost no calories and zero cholesterol. It is rich in dietary fiber, iron, potassium, magnesium and vitamin B6.
International award winning Chef Robert Oliver uses Friend's Fiji Style Cassava and dried fruits for an amazing dairy and gluten free cake recipe.

Local grains and root crops flours are aimed at improving the nutrition value for health.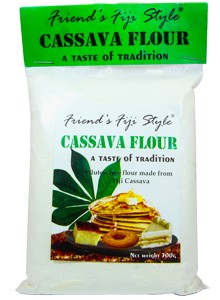 Gluten Free Cassava Flour
Cassava is grown and eaten widely by families of Fiji. For generations families have dried cassava and used for a variety of dishes including porridge and weaning food for the babies.
Starch is extracted before cassava is sundried and blended for a top quality product. This can be used for breads, puddings and as thickener to thicken soups.
Friend's Fiji Style® Cassava is an amazing, grain-free replacement for wheat flour and can be used as a substitute in countless recipes. Foods made with Friend's Fiji Style® Cassava Flour does not have that familiar dry or "alternative flour" taste or texture that often comes with gluten-free flours.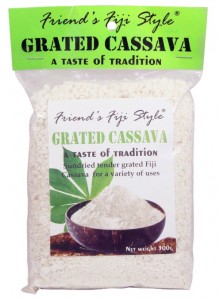 Grated Cassava
Sundried tender grated cassava for a variety of uses. Can be used as a substitute for fresh grated cassava. Just add water, coconut milk or milk to rehydrate.
Friend's Fiji Style® Grated Cassava is a whole food. Cassava roots are peeled, washed, grated and sundried for your convenience. Cassava is a major staple food in the developing world, providing a basic diet for over half a billion people worldwide.Friend's Fiji Style® Grated Cassava can be substituted in recipes calling for fresh grated cassava.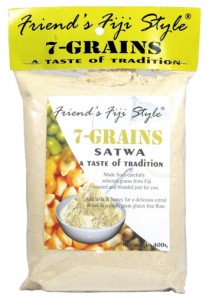 Satwa (7- Grains)
Friend's Fiji Style® 7 Grains or "Satwa" is prepared using ancient processes generations old. The recipe came to Fiji with the indentured labourers who would use the various homegrown grains for a meal or a snack as they headed out for work in the early hours of the morning. Satwa makes for easy to prepare, healthy and nutritious meals. The word satwa originates from the hindi word for seven.
Farmers around Fiji grow a variety of pulses and these are dried and preserved. To make Satwa, women carefully select 7 different grains (Maize, Red Rice, Cowpeas, Pigeon Peas, Green Gram, Black Gram and Sorghum) and roast each before blending and mixing these together. For a healthy high protein food Satwa can eaten by mixing milk and honey or water and sugar for a healthy breakfast or added in your smoothies and flour mixes for baking.
You can make laddoos by adding milk and honey and rolling these into small balls. It is commonly served cold for breakfast as a porridge or soft dough. Sweet dishes combine satwa with fruit slices, sugar and milk. In savoury dishes satwa may be flavored with green chili, lemon juice and salt.
Desiccated Coconut
A quality product made from Fiji Coconuts growing around coastal communities. Friend's Fiji Style®Desiccated Coconut captures the best of the fresh taste of the tropics.
Friend's Fiji Style® Desiccated coconut is crisp, white in colour and has a sweet pleasant and fresh taste of the nut. It is made from fresh coconuts which are harvested at just the right time to ensure the best flavor. The coconut is then grated and dried to the perfect moisture content to ensure long shelf life, best flavor and mouth feel. Desiccated coconut can be used as an ingredient in savoury and sweet recipes both to impart a coconut flavour and texture and as a topping or coating.
Friend's Fiji Style® Virgin Coconut Oil
Pristine and clear looking virgin coconut oil is pressed from hygienically grated and dried coconuts from around the smaller islands of the Lau Group. Virgin Coconut oil is a known health product with a variety of benefits including weight loss formula. This oil can be used in salads, cooking oil or a beauty product.

High in taste and nutrition. Value added local fruits. Naturally sundried. No artificial preservative.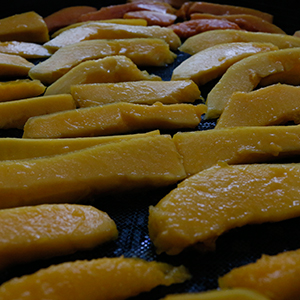 Fiji Pawpaw
Fresh ripe pawpaws are sundried without any added preservatives for a perfect snack for kids or your cooking needs.
Friend's Fiji Style® Fiji Pawpaw uses fresh Sunrise Solo (aka Fiji Red) Papaya which is characterized by its vivid orange-red flesh, sweet and musky flavor. Dubbed the Fruit of the Gods, it is also a nutritional powerhouse. An excellent source of vitamin C, folate, potassium and dietary fibre, papaya are also high in vitamins A, E and K and papain, an enzyme which helps digest proteins.Fiji Red is the only variety that contains lycopene, a powerful antioxidant which proponents claim can help prevent cancer, heart disease, mascular degeneration and other diseases and ailments.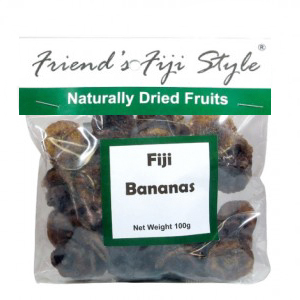 Fiji Banana
Deliciously sweet and chewy!
Friend's Fiji Style® Fiji Bananas are a perfect snack for anyone looking for a quick energy boost or for your cooking needs. Grown organically, once fully ripe, the bananas are hand-sliced and dried in specially designed solar driers.
These are 100% pure banana, free from any additives and preservatives. Bananas grow everywhere in Fiji. They are also are bright and yellow, like the sun that shines!They have a great full banana flavour and a lovely chewy texture. Our dried bananas are also a source of dietary fibre. Really good in a fruit cake.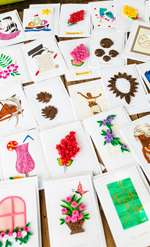 Assorted Handcrafted Cards for all occasions
Handmade Cards
The project provides a sustainable livelihood opportunity to unemployed youths and people with disabilities. Individually handcrafted cards are designed with a variety of skills by artisans for all your special occasion needs.
Friend's Fiji Style® Handmade Card project was initiated in 2004 with a group of Deaf youths to explore sustainable livelihood potential over concerns of loss of income as the garment and footwear industry, where majority of them were employed, contracted following the end of special trade agreements with Australia and New Zealand. The use of paper quilling technique, learnt over internet, was employed to produce colorful art pieces that grew from strength to strength as more and more artisans joined the project and utilized their own skills to add to the range. Friend's Fiji Style® handmade cards come in a variety of designs. Each card is handmade and unique.
Special orders are designed to suit the occasion/wishes of customers.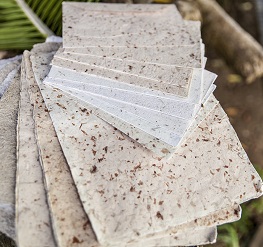 Assorted handcrafted paper
Recycled Paper
Paper offcuts are blended with readily available recycled items like cane tops, discarded banana stems, onion peels and kava kosa for high quality environmentally friendly paper. The paper can be used for craft work or be put through printers.
Cane Top paper has loads of texture. A tough paper suited for craft and packaging.
Banana Stem paper is a tough fibrous paper ideal to be used as a canvas for craft. Makes beautiful lamp shades.
Onion peels, which is a supermarket waste is collected and processed into a smooth textured paper. Can be used for craft or packaging.
Kava kosa is the leftover pieces of the pounded kava after the drink is squeezed out. Traditionally it ends up as garden waste. Friend's Fiji Style® Kava Paper is a truly unique product of the range and makes for authentic craft paper and packaging.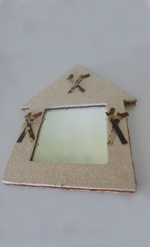 Assorted Handcrafted Mirror
Handcrafted Mirror
These artistically decorated mirrors reflect much more than an image. They contain the vision and creativity of artist.
Individually hand decorated mirror frames use a range of crafts and skills, including all that is employed in the making of Friend's Fiji Style® Handmade Cards. An ideal and a unique gift for special people in your life. A gift of a mirror is a symbol of the recipient's beauty inside and out.Birthday, House warming, wedding, graduation or a farewell present.A collector's item.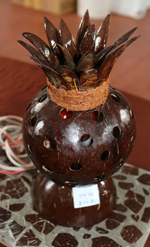 Assorted Coconut Crafts
Coconut Craft
Natural handcrafted coconut crafted items include carved flower bowls, spoons, ladles, bilos and lamps.
Coconut is well known as a multipurpose plant and has been utilized and developed in a manner that yields high economic value all over the world. Instead of being thrown away or used as firewood the coconut shells are carved in different designs. Working with coconut Shells is hard, requiring high skills and experience. Coconut shell craftwork involves tremendous creativity and is used for creation of utility and decorative items. Art work from coconut shells have excellent quality and are long lasting.