FRIEND's Modus Operandi focuses on integration of social, health and economic well-being of our communities.
This is implemented though three key programs – Social Empowerment that include Governance, Sustainable Livelihoods that focuses on income generation and Sustainable Medicine –Improving Lives through Empowerment (SMILE), a health program targeted at lifestyle.
Social Empowerment Programs
FRIEND uses creative arts approaches to assist individuals and community groups improve their self-image, build confidence, and develop networks for empowerment.
This initiative encourages communities to work with all the segments in a community to plan and implement sustainable development programs. The processes use traditional systems to get engage with leaders, women, youths, men and the marginalised (widows, single mums etc). The processes encourage participants to recognise their community responsibilities and identify skills and resources they can use or access to improve their lives by supporting each other.
FRIEND uses its Social and Economic Empowerment Training manual, created from the community governance training it had done over the years. There are 6 modules in the manual covering socio-economic issues in active citizenship, community governance, healthy living, income generation, disaster management and participatory budgeting. Duration of this training takes four to six months and is open to adult members of the community.
In the course of the training, participants have prescribed activities and projects they have to undertake in their communities. Participants graduate with a certificate at the end of the community governance training with the ultimate aim of a strong, vibrant and cohesive community working on their own sustainable development plans.
Various tools are used in the community to create spaces for dialogue, healing of heart wounds and unlocking potential through creative approaches.
Other than working with communities FRIEND also works with school children, youths, women's groups, community leaders on going leadership training programs as agents for change.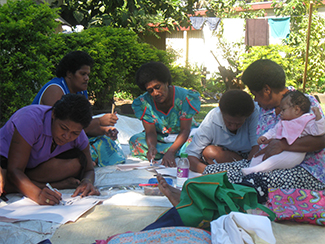 Disaster Relief and Rehabilitation
FRIEND works with communities for disaster preparedness that include planning, capacity building and food security.
In times of disaster, FRIEND mobilizes resources and provides assistance based on the needs of communities, promoting capacity building in places where it's needed most. The initial response is aimed at providing humanitarian assistance at the earliest to those affected. This is followed by rehabilitation needs in terms of establishing livelihood schemes.
Fiji is geographically situated in one of the most natural disaster prone areas in the world. In recent years an increase in the frequency of these disasters has been noted, with some occurring as a result of tropical depressions and cyclones or as part of tropical weather conditions that normally affect the region. Some of the most common are landslides, flash floods and storm surges.Fiji also falls within the zone where earthquakes and volcanoes are frequent, otherwise known as the pacific ring of fire that surrounds the Pacific Ocean. Communities selected for project activities are those that remain vulnerable to such disasters.
Cyclone is the main and most wide-spread natural disaster in the Pacific region. Severe tropical storms bring about massive rainfall and high winds. Low pressure may also cause the sea to rise as much as 2 meters (6.5 feet). Destruction of houses, infrastructure and gardens, loss of vegetation, flooding, land erosion, coastal inundation, destruction of coral reefs and sea grass beds, and pollution of water supplies are all effects of cyclones. Fiji's cyclone season is from November to April.
Flooding in Fiji can be the result of cyclones, but on many occasions, flooding happens even without a cyclone. More often than not though, flooding happens during the cyclone season when rain fall is at its highest.
Fiji is also vulnerable to droughts. Apart from water supply, droughts can have a negative impact on agriculture, an important contributor to Fiji's economy.
Youth Development Program
Our young people are very creative but often lack opportunities. Traditional societal structures can also feel oppressive. FRIEND creates spaces for dialogue, healing and creative learning for young people, empowering them to take charge of their lives and become agents of change for their communities.
During school holidays fun events are organised for youths for life skills. FRIEND also actively encourages youths to volunteer to develop their social skills.
Environment Campaigns
The campaign inspires and empowers communities on cleaning of rubbish, recycling waste and planting of trees to reduce risks of landslides and soil erosion. It gets the communities to assess their vulnerabilities to climate change and practice sustainable development.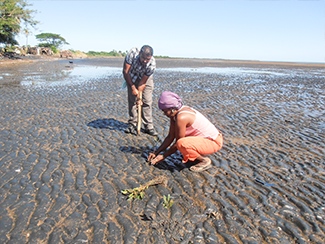 Sustainable Medicine Improving Lives through Empowerment (SMILE)
Fiji and the Pacific have been declared in Non Communicable Disease (NCD) Crisis in 2011 by the Pacific Forum Leaders. This shows the seriousness of our health status as Lifestyle diseases are killing people on a daily basis. 80% of all deaths in Fiji is attributed to NCDs, Diabetes is the number two killer, cardiovascular being the number one.
Sustainable Medicine -Improving Lives through Empowerment (SMILE) evolved out of community clinic pilot trials of 2009 and 2010. SMILE uses the approach of community medicine where our group of medical workers, comprising doctors, nurses, physio and exercise therapists conduct regular NCD clinics in poor and remote communities. After introducing SMILE on VitiLevu's west coast, our NCD clinics were introduced in Labasa on February 2012.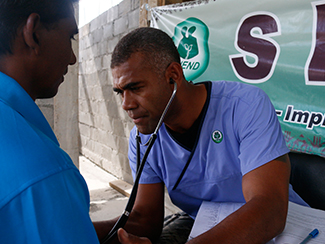 FRIEND entered into a Memorandum of Understanding with the Ministry of Health in 2013 as partner fighting NCDS in the communities.
Each community is screened for diabetics and the patients found are followed through with care (including free medication) and referrals. The team works with physiotherapist and a physical exercise trainer.
Physiotherapist works with diabetic and stroke patients on house to house visits, while the trainer promotes physical exercises in the communities. Each community starts their own regular exercise programs and appoint their own physical exercise coordinators.
The team encourages backyard garden to ensure families have healthy meals available that include vegetables, fruits and staples. A lot of awareness programs have been mounted on developing healthy meals to try and reduce dependency on processed foods.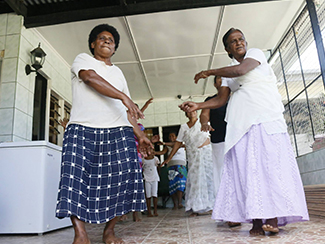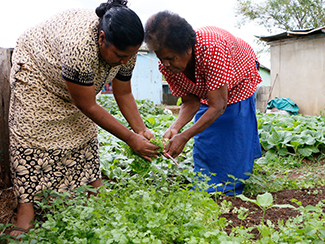 Sustainable Livelihoods
Economic Empowerment is key to achieve our dream of poverty alleviation. Our communities have abundance of organically growing resources and great skills however have had many challenges with value chain- product development and marketing. FRIEND has been working consistently since its inception in utilising traditional resources and skills to develop sustainable livelihood projects for steady source of income for the families.
FRIEND starts with social empowerment, goal setting and financial literacy programs as it supports with development of product in clusters to ensure volume for the market. Where needed these products are marketed by FRIEND under the brand name of Friend's Fiji Style®.
In some cases projects are developed for already existing markets e.g. poultry.
Youth Employment Network (YEN)
Youth Employment Network (YEN) is a youth employment program where out of school young people are trained and placed into work attachment. The program was initiated in2006 and won the Nelson Mandela Graca Machel CIVICUS award in 2007. Over the years a partnership was developed with the University of the South Pacific Lautoka Campus. From 2012-2014 200 youths were trained in partnership with USP Lautoka Campus.
There has been an 80% uptake from the employment sector within 6 months of the program
GROW and GROW plus
GROW is an Agri based business initiative. With a grant from the European Union the GROW program assisted 900 farmers with establishment and support in Cash Crop including organic farming, Bee-Keeping and poultry projects from 2012 to 2014. 1500 women were also trained in food preservation techniques for income and food security.
GROW Plus is targeted at couples where men and women work together on their agribusiness. It's a pilot project which is gender focused to help women have their say in family business and benefit equally with their partner.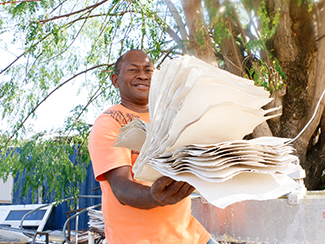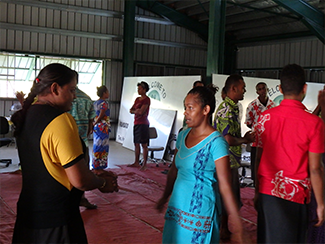 Friend's Fiji Style® Handcrafted Cards and Crafts
Skilled craftspeople engage in production of a range of handmade cards and crafts items for supplementary incomes. Recycled paper is made from sugar cane tops, onion peels, wild ginger, banana stems and yaqona kosa.
Handcrafted Cards Project was initiated in 2004 with a group of Deaf youths as a livelihoods project using paper quilling techniques. The range of cards has grown as other artisans joined the project utilising their individual skills. These cards can be found at all the major retail shops as well as duty free outlets at the Nadi international Airport.
Our craft products include:
Handmade cards prepared with recycled paper using wild flowers, banana stems, cane tops and yaqonafibre (kosa).
Coconut Craft – coconut flower bowls, spoons, bilos and lamps.
Handcrafted mirrors artistically decorated using various crafting skills.
Card making clipfor cards as its light for courier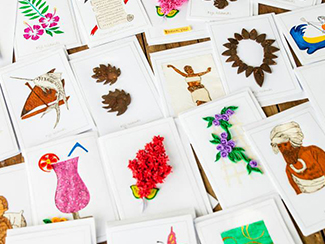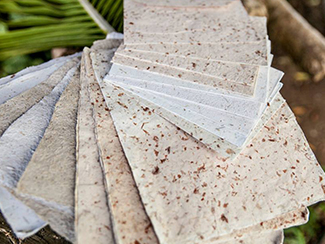 FRIEND works with farmers in clusters to grow crops in large volume for ease of marketing.
Farmers are encouraged to work with crops they have existing knowledge on and can be used for import substitution for example pulses, cereals, herbal teas and root crops. Some of these are then value added through processing for feed, cereals and teas packaged and sold under the Friend's Fiji Style® brand name.
Farmers are assisted with a variety of support mechanisms to fill the needs gap like seed distribution, nursery set ups and irrigation set ups as per needs of the farming clusters.
In some cases we try and better organize the farmers and link them to the market.
The program also advocates and supports the set-up of fruit orchards for longer term cash returns. More than 50 farmers have adopted organic farming under the Participatory Guarantee System as FRIEND promotes healthier and sustainable farming.
People with limited land area are facilitated with shelf gardens for planting of high end crops for regular income.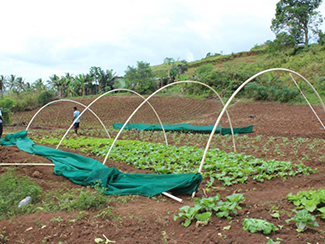 Poultry
FRIEND Poultry projects provide a source of nutrition for the family as well as an opportunity for income.
In Fiji, the demand for chickens, ducks and eggs surpasses the current production capacity leading to shortages in poultry supplies. The market demand provides an opportunity for sustainable income through this project.
FRIEND recommends startup of organic, free range and backyard poultry.
Our methodology is simple. The farmers are encouraged to expand their bird numbers based on their ability to cater to their feed. The project advocates cultivation and use of home based feed for the birds as opposed to buying feed from the market for sustainability of the initiative.
300 farmers set up in this venture from 2012 to 2014 have no shortage of market as customers buy from their local area. In some cases where volume surpasses market demands FRIEND assists farmers in networking with hotels and restaurants where demand for chemical free fed poultry is very high.
Video Links
Poultry Instruction Video – Create Your Own Free Range Poultry Farm
Backyard Poultry for sustainable livelihood
GROW Poultry – Award Winning First Time Poultry Farmer
Friend's Fiji Style® Gourmet Products
Friend's Fiji Style® is a brand name used by FRIEND for the promotion of quality food products resulting from poverty alleviation initiatives in communities.
Traditional homemade recipes for jams, pickles, chutneys, herbal teas, flours, dried fruits etc are helping many earn an income through FRIEND. The first groups of beneficiaries are those who farm and forage raw materials that are required for value added products. The raw materials we work with include tamarind, mangoes, citrus, chillies, rosella, cinnamon, and lemon grass to name a few. At quality controlled production centers, trained and skilled workers engage in various processes to prepare the goods for the market. FRIEND works with the freshest of raw materials to maintain quality products.
Fresh raw materials are collected at FRIEND Food Processing Facilities in Lautoka and Labasa to ensure quality and consistency of products demanded by the market. The resulting products are turned into Friend's Fiji Style® Jams, Pickles, Chutneys, Herbal Teas, Spices, Gluten Free Flours, Desiccated Coconut and Dried Fruits. Friend's Fiji Style® products are prepared and packaged without any artificial additives and are made in a wholesome and healthier way using recipes used for generations in Fiji homes.
The newly constructed FRIEND production center in Lautoka, "Sue Ni Vakatoko" or "House of Cooking" is compliant with international quality standards. The facility was set up with the assistance from the European Union and was inaugurated in August 2013.
The facility in Labasa works with farmers in Vanua Levu and collects and processes spices, flours and teas from the Northern Division.
Communities are also provided training on drying fruits and root crops for home consumption and sale of surplus produce for income. Approved communities and suppliers are also able to sell to FRIEND.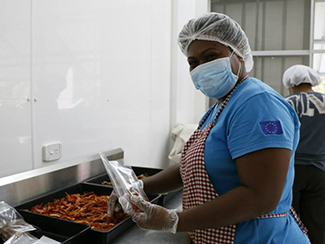 Friend's Bee Keeping project is aimed at assisting families to improve their supplementary incomes and increase pollination in farms.
Bee Keeping for income was a concept born as a result of a larger project designed to assist the disadvantaged families in the sugar industry with limited access to land. With assistance from the European Union, 80 farmers were trained and equipped with sets of 5 -10 double hives. FRIEND trains project holders on good management practices of beekeeping and honey extraction as well as trainings on planning, budgeting and record keeping.
Candle making using bees wax, building of bee boxes and foundations and collection of propolis is also part of the training provided. The high demand for honey provides easy access to market.