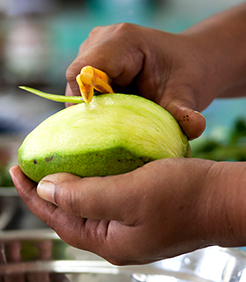 A sweet & spicy treat flavored with cardamoms and cloves. Grated Mango with a fresh pulpy taste.Ideal for your sandwiches, wraps and tapas.
Friend's Fiji Style ®Sweet Mango Chutney was evolved from a recipe of a Vuda woman, KamlaWati. Kamla started making sweet mango chutney with FRIEND and won herself a Fiji Development Bankaward for Small Business New Initiative in 2006. Kamla is well known for her skills at making assorted traditional Indian dishes.
"I always have been making chutneys, pickles and poppadum's using recipes I learnt from my mother, grandmother and mother-in-law. Growing up there was always homemade pickles and chutneys in my home. So when I got married I carried on with what I had observed growing up. I also sell these products to support my family income," says Kamla. Now in her 70s, Kamla has now retired having trained other women to continue bringing this delicious product to the market.